The thing I miss the most about Prague... is Prague itself
17. 7. 2012; by: Erasmus students; Photo: Ivana Herglová; Section: English Digest
There are many remarkable students who have visited the Charles University in Prague in the frame of the Erasmus programme during the years. One of the bravest ones was no doubt the first wheel-chair bound Erasmus student whom we were able to host, Concetta Giansiracusa from the Universita "La Sapienza" di Roma, who joined the Faculty of Arts for the period of summer semester 2010/11.
We admit to admire Concetta's braveness - despite her personal assistant had to cancel her arrival in the very last moment, Concetta, also known as Ketty to her friends, decided to arrive to Prague, a city and a university she hadn't known so far, anyway – and use the service of the personal assistants of the Office for Students with Disabilities of Charles University which we were able to arrange.
By the occasion of the 25th anniversary of the Erasmus programme we have asked Concetta to share her experience with living in Prague and studying at Charles University with us.
Concetta, you were the first wheel-chair bound Erasmus student that ever arrived to the Charles University in Prague. The move to a different town, without your family and friends is sometimes really difficult even for students with no disabilities – was it a difficult decision for you? Had you support from the side of your family and friends – or were they rather trying to discourage you against your stay in Prague?

Well, I launched myself into this adventure without thinking twice. Probably if I reasoned out too much about what I was going to do all by myself, I would rather give up. So this kind of "unconsciousness" allowed me to live one of the most beautiful experiences of my life. My friends and my family have always been on my side; they know my stubbornness well and they trusted me that everything was going to be alright.
We (the European Office of Charles University) will probably never forget your email from the late winter 2011 where you were telling us that your new assistant who was supposed to join you for the semester in Prague couldn't finally accompany you – and that you were desperate and didn't know if you could come. Was it a very bad feeling for you to lose the person who had ensured your stay in Prague?
The girl who was supposed to come with me is a friend of mine. Everything was going well and the University of Rome gave me extra-money to pay this assistant. Unfortunately, she had some personal problems which prevented her to come with me.
The bad thing was that when she told me it was too late to look for another suitable person to come with me. So I asked for help at Charles University because I didn't want to renounce my opportunity to study abroad. It wasn't fair!
In the end we were extremely lucky – even at this late point, the Office for Students with Disabilities of Charles University, namely Mrs. Alice Rytychová, was able to provide you with a group of Czech personal assistants who stepped in to help you. Still, it meant for you that you would first meet your new assistants after your arrival to Prague. Were you afraid that the new assistants might not be good – or had you felt simply happy to be able to come to Prague after all?

Well, I have to admit that I wasn't so afraid at first. I was sure that I'd meet helpful people and that together we could get through this. Only when I boarded my first flight to Prague, I realized that I didn't know what was going to happen. And yes, in that moment I was rather afraid... It was a challenge for both me and the group of my personal assistants, and they will always remain in my heart for their help and for the opportunity to study abroad they gave me.
In retrospective, I can say that it was better for me to go to Prague alone and to live this experience all by myself. Erasmus has been a great chance for me to become more independent and for the first time in my life I figured out that I can be the owner of my life. Only if you trust other people (even if they are strangers) you can go ahead and live whatever you want.
How were your personal assistants? Was it just a job for them – or have you become friends? Are you still in touch with some of them?
My personal assistants were all very nice and I'm still in touch with two or three of them. Obviously, for most of them it was primary a job but this doesn't mean that there was no space for chitchatting and laughs.
Your boyfriend was studying abroad at the same time as you. Were you considering to go to the same city as he – or was it from the beginning on clear that you would go to two different destinations?
It was clear from the very beginning that we would go to two different destinations. I needed to learn the Czech language for my studies and my boyfriend wanted to go to a country better suited for his needs.
You studied at Faculty of Arts and followed the lectures in the main building of the faculty in náměstí Jana Palacha and in Jinonice, where you also lived. How satisfied were you with the accessibility of the university buildings and your flat?
I'm sorry to tell you this but I had some problems with the accessibility of the central buildings of Faculty of Arts. In fact, when preparing my Learning Agreement I had chosen some courses which I didn't attend in the end because the lecture halls or seminaire rooms were too far from my flat in the Jinonice campus (note from the redaction: the subway station Jinonice as well as subway station Staroměstská are so far unfortunately not barrier free, so Concetta had to use more lengthier bus and tram connections all the time). So once I arrived to Prague I changed my study plan and I attended different lectures which were taking place in a building closer to my flat.
Unfortunately, I also couldn't socialize much with the other Erasmus students because I lived in the Charles University hotel rather than any of the common halls of residence. I couldn't be housed in the halls of residence since there aren't any places for wheel-chair users.
You travelled also to other parts of Europe. Was the situation (barriere-free environment) about the same in all the places or are some cities / countries more wheel-chair friendly in your opinion?
Yes, I have travelled a lot all around Europe. I also spent some time in Finland for a project of the European Voluntary Service. If I am to compare all of the cities I have been to I would select Barcelona as one of the most wheel-chair friendly cities.
I also have to say that in Prague I appreciated the public transport service. The timetables at the bus or tram stops always alerted me when an accessible bus or tram was arriving. In Rome we are not so advanced. There is even not the timetable!
What do you miss most about Prague? And is there something you don't miss at all?
The only thing that I don't miss about Prague is the local food… The thing I miss the most about Prague... is Prague itself. I felt in love with Prague and during my five months of the Erasmus study stay I learnt it in a very intimate way. I was often alone around the city and every time when I figured out what was behind another corner I felt very excited. Even after I became more familiar with the streets and buildings in the city, it was a continuous whisper of enchantement for me. It was like a spell, "Prague has the claws" (to paraphrase Franz Kafka; note from the redaction). I left my heart there and my shoes too: if you go to Letná you can find them hanging there.
If you had a chance to study in Prague again – would your decision be the same?
Definitively yes.
Thank you for the interview.
Markéta Havelková dokončuje bakalářský obor sociologicko-ekonomická studia na Filozofické fakultě UK. Kvůli práci ve Studentské unii UK a ve SK Rady vysokých škol jí nezbývá na focení mnoho volného času, a tak fotí hlavně o prázdninách.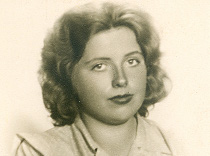 Letošní univerzitní kalendář představuje 12 výjimečných žen, které působily na naší univerzitě. O jejich životě a životě dalších se dozvíte na stránkách iFora.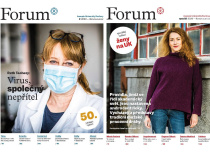 Pro čtenáře Fora nabízíme k prolistování kompletní archiv čísel ve formátu PDF. Těšíme se na Vaše podněty pro další témata našeho časopisu.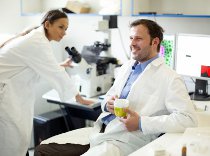 Společným projekt 1. lékařské fakulty a Přírodovědecké fakulty se šesti ústavy Akademie věd ČR. Cílem je realizace vědeckého centra excelence v oblastech biotechnologií a biomedicíny.