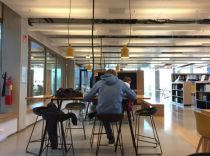 Since its foundation in 1987, over 200,000 British students have studied or worked in Europe under the Erasmus exchange programme. The United Kingdom has also proven to be one of the most popular destinations for Erasmus students, receiving 31,727 students and trainees in 2016/17.
Molly Fergus, 2 April 2019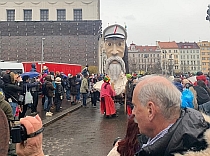 The commencement of Lent is marked in various ways across the globe: Mardi Gras, Shrove Tuesday, and more locally, the Czech festival of 'Masopust'. Dating back to the 13th century, the celebration of Masopust, a meat feast before fasting (the name literally means giving up meat), traditionally symbolises the departure of winter and the beckons the arrival of spring.
Molly Fergus, 11 March 2019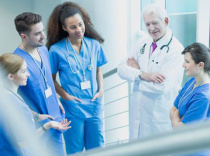 "Better pay and promising careers leading to brain drain in health sector" or similar headlines have long been a staple in the Czech media and statistics indeed point to some 10 percent of graduates from medical faculties heading abroad upon completing their studies. In 2018, the Czech Medical Chamber registered the departure of 193 recent graduates.
Marcela Uhlíková, 27 February 2019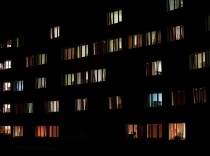 Foreign students who have the chance to study at Charles University under the Erasmus+ program often describe their semester or two in Prague as "unforgettable". Not only is Erasmus+ an opportunity to advance in one's chosen major but it's a chance to experience something different in the heart of Europe.
Jan Velinger, 13 December 2018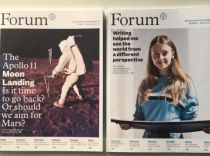 Readers find complete English issues of Forum Magazine in PDF format, including special issues, in our archive. We are looking forward to your suggestions for new topics for Forum Magazine.
25 April 2018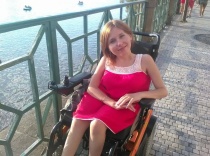 Upon meeting Mariana that afternoon, what became immediately apparent, was her candid disposition. Indeed, it was not long before we started discussing politics, a topic scarcely discussed even between close acquaintances. Following a delightful exchange of ideas and opinions, she begun to tell me her story.
Maria-Constanza Labra-Odde, 25 April 2018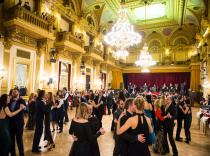 The joint annual ball of the Faculties of Arts and Education took place on Wednesday 7th March 2018. Members of both the faculties all arrived in gorgeous dresses and suits for the evening start at 8 o'clock. Not just students, but also professors, former teachers, and members of the public had since weeks been looking forward to what was to become a magical event. This year's theme was 'A Midsummer Night's Dream', one of Shakespeare's comedies, set in the woodlands by the light of the moon. This topic added a true sparkle to the evening with the atmosphere becoming complete with fairy-like creatures floating around.
Melanie Desert, 23 March 2018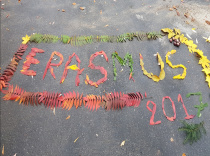 This article was written for a competition held by Charles University by the occassion of this year's 30th anniversary of existence of the Erasmus programme. The author is Valentina Appolonova from Tallinn University in Estonia, currently hosted by the Faculty of Education of Charles University.
Valentina Appolonova, 25 December 2017