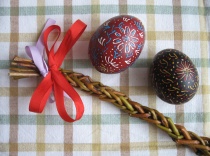 Easter Monday is the core of the non-religious Czech Easter celebrations - a popular festivity with the Czechs which is sometimes frowned upon by people from abroad because the traditional 'beating' of women is misunderstood.  Here, this ritual 'beating' is practised as it is believed to bring youth and good health to the girls or young women involved.
Author: Ivana Herglová, 7 April 2016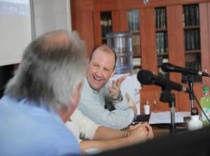 Brian Ó Conchubhair, Associate Professor of Irish Language and Literature at the University of Notre Dame (Indiana, US), shone light on the arguably ambigious nature of modernism in Irish-language literature and culture, in his visit to Charles University students this March.
Author: Aoife Brady, 4 April 2016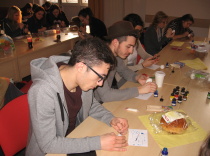 There are many religious traditions connected to Easter: remembering the final days, the death and the resurrection of Jesus. For many Czech people, however, their popular customs – which originate from the Pagan time of the pre-Christian period – are the core of the Easter holidays. These traditions celebrate the beginning of spring and the renewal of life that are associated with this time of year.
Author: Ivana Herglová, 25 March 2016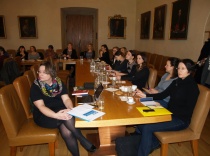 Throughout the first International Staff Training Week held at Charles University from March 7 until March 11, 2016, sharing ideas and practices was a key theme. On Thursday morning representatives had the opportunity to share strategies which they use in their universities to improve the experience of both incoming and outgoing exchange students. 
Author: Margot Abbott, 18 March 2016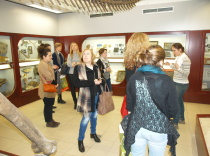 In the week from 7th March until 11th March 2016, Charles University hosted its first International Staff Training Week.  The Staff Training Week was an event for representatives of CU partner universities from around Europe, mainly connected to the Erasmus+ programme.
Author: Margot Abbott, 17 March 2016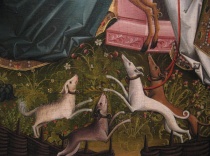 Make time in March to see the exhibition 'Without borders: Art in the Ore Mountains' before it closes on Sunday the 13th. The exhibition displays an impressive collection that encapsulates a large geographic area and historical timeline. It fulfils its aim and more.
Author: Margot Abbott, 3 March 2016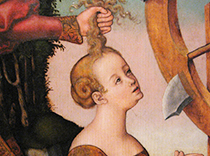 Step back in time with a visit to the National Gallery in Prague which is currently housing art exhibition Without Borders, Art in the Ore Mountains between the Gothic and the Renaissance.
Author: Abbie Burnett , 18 February 2016
There are three institutes dedicated to the study of Archaeology at Charles University in Prague; all a member of the Faculty of Arts. The Czech Institute of Egyptology is world-famous due to its numerous important discoveries in Egypt and Sudan, whilst the Institute of (Prehistoric and Medieval) Archaeology is the most active of the three when speaking of the excavations running in the Czech Republic itself.
Author: Ivana Herglová, 18 December 2015