Martin Rychlík, Jan Velinger • foto: Vladimír Šigut • 23 October 2020
Med students from First Faculty of Medicine help again
as coronavirus cases in the Czech Republic spike
Med students from Charles University have responded to the resurgence of Covid-19 in the Czech Republic, helping once again in hospitals and in the field. Among tasks where they are making a difference, is testing for the deadly virus that has come back across Europe since mid-September.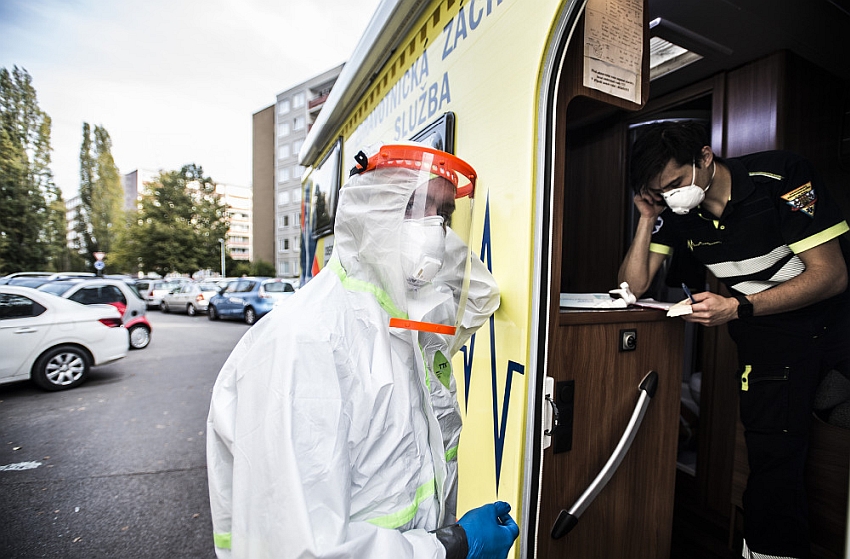 Our photographer Vladimír Šigut joined two students from the First Faculty of Medicine as part of an ambulance crew helping in Prague: sixth-year med student Jan Ohnisko (in dark blue, above) coordinates calls from the central office while third-year Jonáš Paleček, in PPE, tests patients in the field.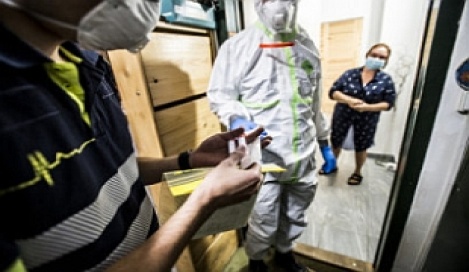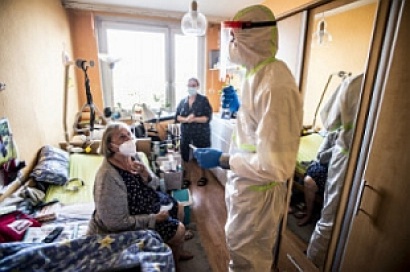 After swab samples are taken, patients are informed of the results by phone. Šigut says the students are dedicated and more than up to the task: "A student spends as much as six hours in full protective gear."
Jana Poštová, the spokesperson for Prague's emergency services, Zdravotnické záchranné služby hlavního města Prahy, confirmed two such crews were providing testing. She had praise for students who had volunteered and were making a difference:
"They're amazing. Not just those in the field, but also students from the Third Faculty of Medicine who are helping in dispatching."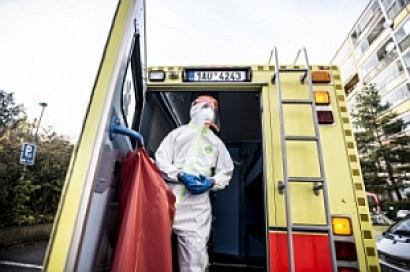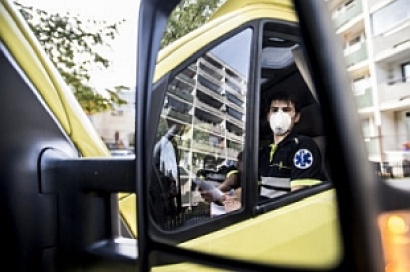 The main aim of the crews is to reach those who cannot make it to testing stations on their own; over the course of Wednesday alone, some 180 samples were taken, Poštová confirmed. She said for the moment the two vehicles have been able to handle demand. By contrast, during the first wave in the spring, four vehicles were available, cooperating with the municipal police. One current difficulty is simply manoeuvring the ambulance through parking lots which are largely full, with nary a space to drive through, as many Czechs are not driving but working from home.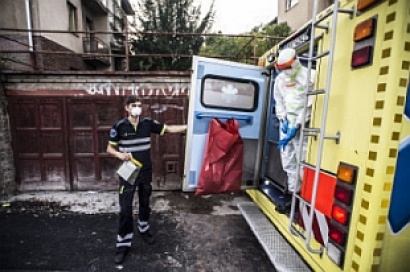 The New York Times reported in an overview of countries on Friday that the Czech Republic remains the worst hotspot in Europe. The government has tightened measures significantly in recent days, this week ordering the closure of most shops and the expanding the wearing of face masks outside in an effort to curb the rise in cases.