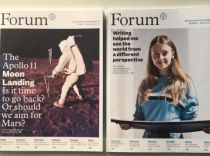 Readers find complete English issues of Forum Magazine in PDF format, including special issues, in our archive. We are looking forward to your suggestions for new topics for Forum Magazine.
25 April 2018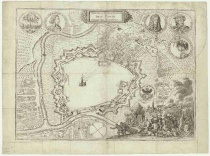 On the 28th of March 2018, Professor Chet Van Duzer from the Stanford University (California, US) presented the guest lecture "With Savage Pictures Fill their Gaps: Cartographer's Fears of Blank Spaces" at Charles University's Faculty of Arts' central library.
Maria-Constanza Labra-Odde, 12 April 2018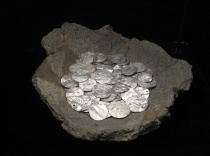 The speaker at one of the literary lecture offered in the series 'Life and Biography in the Middle Ages' on the topic of 'A Heathen King' at the Faculty of Arts on the 29th of March was Dr. Rolf Stavnem, who lectures on Nordic medieval literature and languages at the Aarhus University in Denmark.
Ellie Cormack, 10 April 2018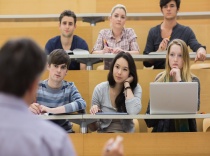 On March 21, 2018, a public debate was organised by Charles University's Centre for Philosophy, Ethics and Religion to discuss the political role of universities. Three speakers were present, each demonstrating similar opinions on the role of universities in the political sphere. Universities are ambivalent in their nature, successful in their growing appeal to more students each year and yet they are often still undermined by the public sphere. The discussion emphasised how in a time of polarisation, new political challenges in society would undoubtedly affect how universities operate.
Lily Fairbairn, 5 April 2018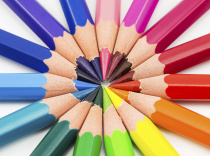 As part of the recently formed partnership between Charles University and Brown University (Providence, Rhode Island, United States), Dr Shiyanthi Thavapalan paid a visit to the Czech Institute of Egyptology at the Faculty of Arts. On the 26th of March she delivered a talk based around her PhD dissertation topic: "The Meaning of Colour in Ancient Mesopotamia".
Melissa Batcharj, 4 April 2018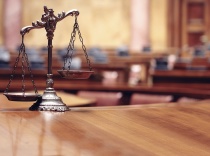 On the 16th March 2018, and supported by the Kingdom of the Netherlands, the Faculty of Humanities of Charles University was host to a screening of the 2012 film Peace vs Justice, followed by a Q & A with the director Klaartje Quirijns (NL).
Chris Grosset, 4 April 2018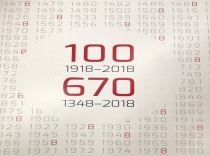 To celebrate the centenary year of the formation of Czechoslovakia, Charles University's exclusive calendar is a combination of the pivotal history of both the State and the University. The year 1918 was crucial to both institutions, as Czechoslovakia was formed, and Charles University took its present name.
Lily Fairbairn, 23 March 2018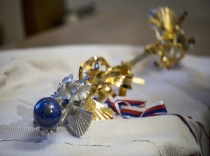 The New Mace and Ceremonial Gown exhibit held from the 19th January until 20th February 2018 in the Cloister of the Karolinum, the central point of Charles University nestled in the centre of Prague, showcased the Faculty of Social Sciences new ceremonial mace and gown. The ceremonial mace plays an important role in the graduation and matriculation of Charles University students; students lay their fingers on the mace to honour their commitment and loyalty to the University.
Georgia Moss, 15 February 2018